Sony HDR-AS50 is one of the most popular, branded budget-friendly action CAM to date. This model was launched in 2016 but it is still one of the most affordable action cameras with great features. It is an ideal camera for outdoor adventures.
I have been using this camera for a while now and its performance is quite satisfactory.
Design and Accessories
Considering the price factor, the overall quality is good. This Camcorder style camera is considerably lightweight without Underwater housing. I got the bundle with Live View Remote (LVR3) and Sony Shooting grip which is a handheld mount and can be converted to a tripod mount. The LVR3 can be attached to the tripod mount or on a shooting grip. Also, there is a wrist band that comes in the box for LVR3 so that you can wear it on your wrist like a watch.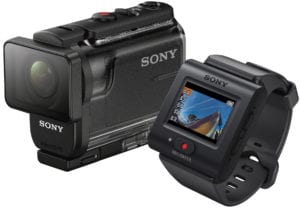 The interface is simple but not very user friendly. The UI is quite basic, though selecting and changing the options in the setting is easy when you get used to it. The camera can also be turned on/off via smartphone App " Imaging Edge Mobile"
There is SteadyShot™ electronic image stabilization that works well to normalize the oscillation. This means the shaky footage that is normally experienced attaching the camera on a bike or a drone is much more stable and smooth. This also helps the image to be smooth in case of vibration during capturing a still image
There is no 4K Video shooting option but it can capture 4K Time-lapse still images at designated intervals.
This camera has Sony's BIONZ X™ image processing engine which reproduces more realistic images near to what is seen by the naked eye. It also features Sony's Exmor R CMOS sensor which improves image clarity in low light and reduced grain.
The Angle of View can be switched between "Wide" and "Narrow" in two levels. In addition, seamlessly adjustable zoom mode enables you to change zooming while shooting. But note that the  "Wide" only angle of view is available when SteadyShot™ is OFF.
The camera is equipped with a ZEISS® Tessar lens. The built-in stereo mic is quite responsive and captures a clear sound. It is also capable of recording slo-mo videos at HD resolution with a 120fps frame rate.
Motion Shot LE feature creates a composite image of a subject in motion, with variable settings for different burst speeds, which are: 8fps/1 second, 5fps/2 seconds, and 2fps/5 seconds.
Underwater Housing is quite sturdy and it is designed very well. Equipped with a flat panel, it lets you control all camera buttons easily through the housing. It has a flat lens which gives clear results underwater and it can go up to 60m/197ft using supplied Underwater Housing. The Housing also comes in handy to shield the camera from shocks, dampness, rust, dust, and sand.
The Memory Card Slot accepts Memory Stick Micro™ (M2) and Micro SD / SDHC / SDXC Memory Card (class 4 or higher) memory cards.
Also Read: Comparison of iPhone 11 Pro Max And Samsung S20 Ultra 5G
The camera features three lights indicators on the front, top, and rear of the camera. This makes it easy to check the recording status from various directions, as well as hear the sound of the beeping reminder.
Other features include WiFi and Bluetooth 4.0, allowing control and review/editing with smartphones and syncing with the LVR3. The camera has a Built-in tripod socket that can attach it to a tripod. Also, the Under Water Housing has a hole so the tripod can be attached to the camera with the housing on.
Full Specification
Size & Weight
DIMENSIONS (W X H X D) Approx. 24.2 x 47.0 x 83.0 mm
WEIGHT 83 g (including supplied battery)
Sensor
SENSOR TYPE 1/2.3 type (7.77mm) back-illuminated "Exmor R" CMOS Sensor
EFFECTIVE PIXELS (VIDEO) Approx. 11.1 Megapixels
EFFECTIVE PIXELS (STILL IMAGE) Approx. 11.1 Megapixels
Lens
LENS TYPE ZEISS® Tessar
F-NUMBER (MAXIMUM APERTURE) F2.8
FOCAL LENGTH (35MM) (VIDEO) f=18.4 mm (WIDE), f=21.8 mm (NARROW)
FOCAL LENGTH (35MM) (STILL IMAGE) f=18.4 mm (WIDE), f=21.8 mm (NARROW)
MINIMUM FOCUS DISTANCE Approx. 30 cm
Image Stabilization
STEADYSHOT SteadyShot™ electronic image stabilization
Exposure
EXPOSURE MODEMulti-segment
MINIMUM ILLUMINATION6 lux (1/30 Shutter Speed)
White Balance
WHITE BALANCE MODES AUTO/Color Temp/Custom
Shutter
SHUTTER SPEED 1/30 – 1/10,000 (30fps)
Shooting
IMAGE PROCESSOR BIONZ X™ image processor
OTHER SHOOTING FUNCTIONS Loop Recording, Motion Shot LE, Burst Shooting, Time-lapse capture, Live Streaming
WATERPROOF With supplied Underwater Housing (MPK-UWH1)
DUSTPROOF With supplied Underwater Housing (MPK-UWH1)
SHOCKPROOF With supplied Underwater Housing (MPK-UWH1)
Recording Media
COMPATIBLE RECORDING MEDIA Memory Stick Micro and MicroSD/SDHC/SDXC compatible
Recording
RECORDING FORMAT (VIDEO) MP4: MPEG-4 AVC/H.264, XAVC S format: MPEG-4 AVC/H.264
RECORDING FORMAT (STILL IMAGE)DCF Ver.2.0 compatible, Exif Ver.2.3 compatible, MPF Baseline compatible
VIDEO RESOLUTION MP4 PS:1920×1080 60p/50p, MP4 HQ:1920×1080 30p/25p, MP4 STD:1280×720 30p/25p, MP4 HS120 (HS100):1280×720 120p/100p, XAVC S:1920×1080 60p/50p/30p/25p/24p
VIDEO RECORDING RATE (ABR / VBR) MP4 PS: Approx. 28Mbps/HQ: Approx.16Mbps/STD: Approx. 6Mbps/HS120(HS100): Approx.28Mbps, XAVC S 60p/30p/24p Approx. 50Mbps 50p/25p Approx. 50Mbps
STILL IMAGE SIZE (PHOTO MODE) Approx. 11.9 Megapixels 16:9 (4608 x 2592)
Audio
AUDIO RECORDING FORMAT MP4/MPEG-4 AAC-LC 2ch
MICROPHONE Built-in stereo Microphone
SPEAKER Monaural Speaker
Interface
INPUT AND OUTPUT TERMINALS Multi/Micro USB Terminal
Power
POWER REQUIREMENTS 3.6V (battery pack)
BATTERY TYPE NP-BX1
What's In The Box
Rechargeable Battery Pack (NP-BX1)
Micro USB Cable
Startup Guide
Underwater Housing (MPK-UWH1)
Attachment Buckle
Price
You can check the Latest Price here that includes Sony Action Cam HDR-AS50 Wi-Fi HD Video Camera Camcorder with 32GB Card + Battery + Case + Tripod + Kit