We are an Affiliate
We hope you like the products that we recommend. We may collect a share of sales or other compensation from the links on this page. We thank you if you use links on this site to purchase your favorite product.
Projectors are aggressively making their way and many people are re-designing their Entertainment Rooms to get a larger and manageable image. Also, the gaming industry is seeing a massive demand for Projectors' sales. If you have less space and small room, Optoma GT1080 is one of the best 3D Projector in the market in the short-throw category
Full HD 1080p and short throw lens – 100″ image from just over a meter away
Bright vivid colors – 2800 ANSI lumens
Dynamic black technology – 25,000:1 contrast ratio
Easy connectivity – 2x HDMI and MHL support with built-in 10W speaker
Play bigger, harder, faster
Experience games and movies the way you have never seen before on an Optoma GT1080 High Definition gaming projector. Designed for serious gamers like you, the Optoma GT1080 delivers super-fast bright 2800-lumen HD games to the screen with stunning color accuracy and a 25,000:1 contrast ratio for maximum image detail and improved visibility. Allowing you to acquire and assess information easily and to formulate a faster, more accurate response to defeat your opponents.
Equipped with the level of all digital connectivity you need for today's gaming gear, the Optoma GT1080 will keep you on top with two HDMI ports, MHL connectivity, VESA 3D sync port, razor-sharp 0.5:1 short throw lens to deliver larger-than-life images even in space-constrained environments, powerful 10-Watt audio, 12V output, whisper-quiet operation and up to 6500-hour long lamp life for worry-free gaming.
Amazing Color
Our projectors are capable of reproducing the Rec.709 color gamut, the international HDTV standard to guarantee accurate reproduction of cinematic color exactly as the director intended.
Full 3D
Display true 3D content from almost any 3D source, including 3D Blu-ray Disc™ players, 3D broadcasting, and the latest-generation game consoles. Support for 144Hz rapid-refresh rate provides ultra-smooth flicker-free images. DLP Link 3D glasses required.
Full HD 1080p
1080p (1920×1080) resolution renders sharp and detailed images from HD content without downscaling or compression, which is perfect for movies, TV shows, and gaming.
Dynamic Black Technology
This feature gives more depth to your image by smoothly adjusting the lamp output to create a stunning high contrast ratio. Bright scenes appear crisp and clear, while dark scenes remain detailed with deep blacks and exceptional light and shade detail.
Enhanced Gaming Mode
Gaming Mode optimizes the projector for lightning-fast response times.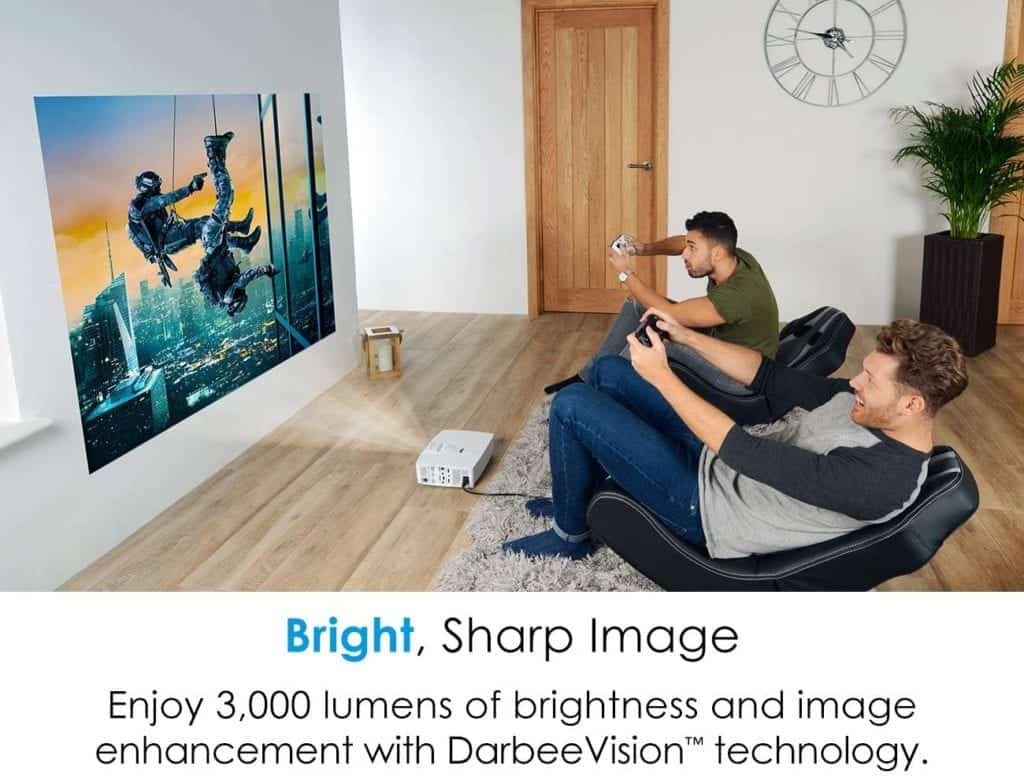 HDMI Link
HDMI Link lets you to turn on and off two or more HDMI-CEC capable devices using a single remote control.
Short Throw Projection
Project images in limited space environments with short-throw projection. The short-throw lens requires short distances to project large images.
Turn your projector into a smart display by connecting your smartphone or tablet with a single cable using MHL; now you can view presentations and documents, stream videos and share photos on the big screen.