Nothing is better than a hot cup of coffee and a warm Homemade Cinnamon Roll straight from the oven.
The best part about baking cinnamon rolls at home is the aroma that fills your air. That fresh smell of cinnamon with a hint of vanilla indulges a beautiful evening with family or friends.
This scrumptious Cinnamon roll recipe is not only the best but also very simple and easy for beginners even.  This recipe is easy for people who are nervous to bake with yeast. Well, I was too in the beginning but believe me the moment I tried it, I fell in love with it because of its simplicity.
(Quick Tip # 1: Always use the best quality yeast. I would recommend using the sachet or small packet of yeast that's good for one recipe only. If you have a bigger pack, then better to store it in an airtight container and refrigerate for up to 6 months.)
How to Make Homemade Cinnamon Rolls in 5 simple steps:
Cafe style goodness every time!
Make the dough:
The ingredients are the same as any bread dough: flour, sugar, salt, yeast, water, milk, butter, and an egg. To knead the dough, you can either use a mixer or your hands to knead the dough. When you're finished kneading, cover the dough and let it rest for a few minutes so the gluten settles.
Related: Perfect Homemade Donuts
During this time, you can prepare your filling ingredients: butter, cinnamon, and sugar.
(Quick Tip # 2: Always proof the yeast before making your dough. This will not only help you save your ingredients but will also give you the confidence for a successful attempt.)
Shape the cinnamon rolls:
Roll the dough out into a rectangle. Spread the butter on top, then sprinkle with cinnamon and sugar. Tightly roll up the dough and cut into pieces. Place in a pan and set aside to rise.
(Quick Tip # 3: Use soft brown sugar only, as it is what that gives the rolls the soft gooey and spongy feel. White sugar tends to make them crispy like a Danish.)
Rise:
Let the shaped rolls rise for 60-90 minutes. Remember, this is the only rise time for the rolls.
Bake:
After the cinnamon rolls are nice and puffy, bake until golden brown.
(Quick Tip # 4: Cover the rolls with an aluminum foil halfway through the baking process in order to save the top  from browning.)
Frost:
Drizzle the slightly cooled rolls with my Quick and Simple Cream Cheese Frosting recipe.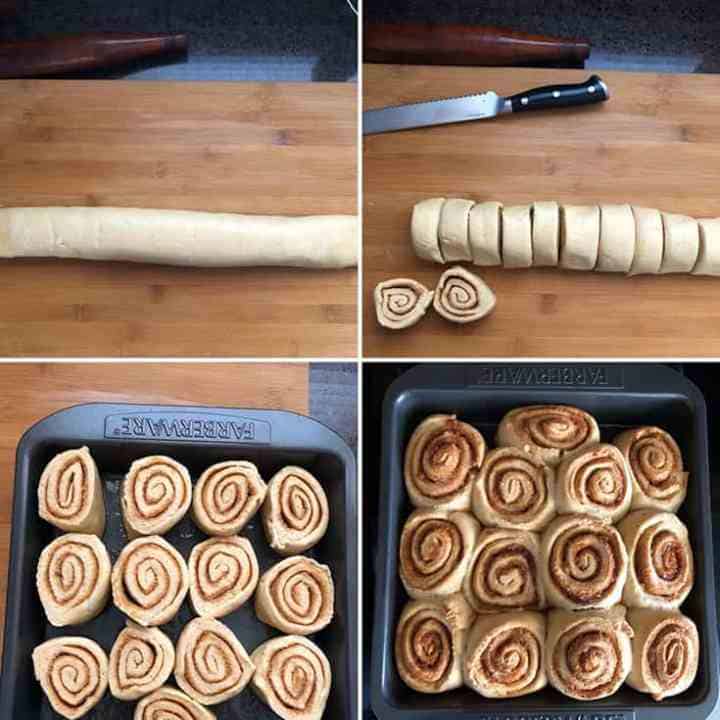 Easy Cinnamon Rolls

Prep time: 1 hr, 40 mins
Cook time: 25 mins
Yield: 12 rolls
Ingredients
2 ¾ cups All-purpose flour
¼ cup granulated sugar
1 tsp. salt
2 and ¼ tsp. Yeast (1 packet)
½ cup whole milk
¼ cup lukewarm water
3 tbsp.  unsalted butter
1 large egg
Filling
3 tbsp. unsalted butter softened to room temperature
1 tbsp. ground cinnamon
1/4 cup packed soft brown sugar
Frosting
½ cup sweetened condensed milk
5-6 Cream cheese (Kiri) squares
½ tsp. Vanilla extract
Instructions:
Mix together yeast, sugar and salt. Pour the ¼ cup water and let it sit for 2-3 mins to proof. The mixture should become foamy and rise after the proofing time.
Melt butter; microwave or use the stove and heat until it is melted.
Pour both the above mixtures in a big mixing bowl, add flour and egg and stir until a soft dough is formed.
On a lightly floured surface using floured hands, knead the dough for 3 minutes. Place in a lightly greased bowl, cover loosely and let rest for about 10 minutes.
After 10 minutes, roll the dough out in a 14×8 inch rectangle. Spread the softened butter on top.
Mix together the cinnamon and sugar. Sprinkle it all over the dough. Roll up the dough tightly. Cut into the roll into thirds, then each third into half and then each half into further halves. This way you will get 12 even rolls.
Arrange in a lightly greased rectangular pan or a round pie dish, leaving two fingers spaces around each roll.
Tightly cover the rolls with aluminium foil or plastic wrap and allow to rise in a warm, draft-free environment for 60-90 minutes.
(Quick Tip # 5: I prefer heating up my oven for 10-15 mins and then closing it back down. Put the covered rolls in the oven. Leave the door open for 30 mins then close the door and let it sit for almost an hour more in the closed oven.)
      9. After the rolls have doubled in size, preheat the oven to 375°F (190°C). Bake the rolls uncovered 10-15 mins. If you notice the tops are getting too brown too quickly, loosely cover the rolls with aluminium foil and continue baking for next 10-15 mins. (The total baking time shouldn't exceed 25 mins.)
     10. Beat the frosting ingredients with a hand mixer and drizzle half the frosting over the warm rolls. Use rest half before serving or as a side.
(Quick tip # 6: It is necessary that the rolls are still warm when you pour the frosting over it. The warm rolls will absorb the frosting and will make them moist and soft.)
Notes:
Make Ahead
This dough can be made the night before through step 8. Cover with plastic wrap and let rest in the refrigerator overnight. The next morning, remove from the refrigerator and allow to rise in a warm environment, about 1 hour. Continue with step 9.
Freezing Instructions
Baked rolls can be frozen up to 2-3 months. Thaw overnight in the refrigerator and warm up before enjoying. You can also freeze the unbaked rolls by baking the rolls for only about 10 minutes at 375°F (191°C). Cool completely, then cover tightly and freeze. To serve, take the rolls out of the freezer and put into the refrigerator a few hours before serving. Then, finish baking them.
Milk
Whole milk is ideal for this dough. If needed, you can substitute it with 2 tbsp powdered milk. Increase the water quantity to ¾ cup instead.
Inspired by: https://sallysbakingaddiction.com/