There is a lot of buzz about a new mini-city that was emerged a couple of years back in the outskirts of Islamabad, Capital Smart City. If you are a potential investor or looking for new land to purchase to build your own home in a society based on a modern concept, this guide will help you in making your decision.
What is a Smart City?
As Wikipedia defines "A Smart city is an urban area that uses different types of electronic Internet of Things (IoT) sensors to collect data and then use insights gained from that data to manage assets, resources and services efficiently. This includes data collected from citizens, devices, and assets that is processed and analyzed to monitor and manage traffic and transportation systems, power plants, utilities, water supply networks, waste management, crime detection, information systems, schools, libraries, hospitals, and other community services."
To simplify it further, the city that can gather "useful" information by using technology-based infrastructure for improving the quality of life for its citizens. How does it collect data? This is done through sensors that collect data from connected devices such as vehicles, home appliances, traffic lights, CCTV cameras, data from mobile phones and the list goes on. All this data then delivered to Cloud-based IoT applications for analysis in real-time
I will give you a couple of examples to simplify it further. How the Waste Management system in a Smart City works? Once the Garbage Can is about to get full, a sensor installed in the garbage cans automatically sends data to waste management companies for pick up.
An example of How Traffic Management in Smart City works? Traffic lights in a smart city can evaluate when there is less traffic on one of the traffic lights and prioritize accordingly. This way the flow of traffic can be managed in a better way.
Smart cities can be different from one another. The urban planners and developers need to aim at developing the urban ecosystem which fits best according to the needs of their cities. The goal should be the better experience overall for its residents and visitors.
Fast and Secure wireless connectivity, Proper deployment of IoT devices and Sensors, and effective use of gathered data are key factors for a successful smart city.
I will discuss IoT and Digital Transformation in a separate article soon.
Things that you Need to Know About Capital Smart City Islamabad
Capital Smart City is Pakistan's first smart city which is a milestone itself. This project was introduced in 2018 and officially launched in 2019.
The Owner and Developer of Capital Smart City Islamabad are Future Developments Holdings (Pvt.) Limited (FDHL) and Habib Rafiq Group HRL. The main Design Partner of this city is Surbana Jurong (Pvt.) Ltd (SJ). There are other development partners for individual projects such as Movenpick Hotels & Resorts, Harradine Golf, Freij Entertainment International and National Defence University.
FDHL is a partner's consortium registered under Companies Ordinance 1984. National and international companies have joined hands together to form the world's next leading organization. FDHL is a combination of management and technical expertise combined from renowned groups: CLIC and EDL.
HRL: Habib Rafiq Pvt. Ltd. has a rich 60 years heritage in industrial and infrastructure landscape. Its a biggest Infrastructure developer in Pakistan. Also, one of the leading construction company in Pakistan. HRL is acknowledged as developer of various finest development projects in Pakistan.
SJ: Surbana Jurong (SJ) is Master Planner for the Capital Smart City. It's one of Asia's leading urban, industrial and infrastructure consultancy firm. SJ is a Singaporean government-owned consultancy company.
Mövenpick Hotels & Resort is an international firm. It is an advance and luxury hospitality company. In this project, it is going to presents 250 hotel rooms and 150 serviced apartments with 4 dining halls. Moreover, this luxury hotel will feature meeting or community hall facilities, a fitness center and two swimming pools as well.
Harradine Golf is one of the eminent and leading brand in designing, planning and managing Gold Courses worldwide. In CSCI, Harradine Golf is planning 18-hole PGA Signature Golf Course.
Freij Entertainment International is an expert in organizing mega carnivals, outdoor events, travelling rides, circus and several other recreational activities. In this working with Capital Smart City Islamabad to bring an international standard amusement park.
My latest visit to the site of Capital Smart City Islamabad was in Jan 2020. It took me around 1 hr to reach the Chakri Road main gate of Capital Smart City from Bahria Town Phase 2, Rawalpindi. I had to take Chakri Road as the other gate on Motorway M2 is not ready yet and the interchange is still not completed. A dedicated Motorway interchange is already approved near Thallian Interchange. It will be connected by 400 Wide Central Boulevard which runs through the smart city.
Once the connectivity issue is resolved, Direct access through Motorway M-2 Interchange will make it much easier for the residents to travel to New Islamabad Airport, as well as Islamabad City through Kashmir Highway Interchange.
Is It Worth Investing in Capital Smart City Islamabad?
Pakistan's Real Estate market is not performing well for the last three years. The ROI is not as good as it was 5-10 years back. It is hard to find quality benchmark projects like Bahria Town and DHA. But unfortunately, Bahria Town got into legal issues whereas the DHA is developing its projects at a snail's pace. Other projects are either not as lucrative as Bahria and DHA or their progress is affected by government policies and lack of interest in the real estate sector.
Capital Smart City is still very new in this sector but it is backed by names like HRL and Surbana Jurong. Also, the pace of this project's development is outstanding. Since my visit in Jan 2020, there is incredible progress in development. For example, the mosque in Sector C that was under construction is almost complete now. Plus the causeway bridge over the river from the Entrance gate is also near completion.
There is a lot of machinery deployed on the site and the groundwork is going on continuously. Currently, the work has been on hold for a short time due to Coronavirus Pandemic. But the amount of work which is done in 4 months from my visit is still above average.
Another important factor that can rate this project as a good investment is its location near the new Islamabad airport. Also, it is evident that many societies are developing near the new airport and it seems like Islamabad is expanding in that direction.
Additionally, it is located near the CPEC route. We all know that CPEC development is not as rapid as it should be but Pakistan and China, both seem serious and confident that the work on this corridor will build up a pace as soon as we are done with this global pandemic situation
Capital Smart City has approved NOC from RDA. You can find the latest update on the RDA website. Capital Smart City Islamabad is mentioned as 45th Item in the list. The balloting has already been done for most of the sectors in Overseas block 1 and society will start giving possession accordingly.
The prices are already on upward direction since the introduction of the project. The first jump was when the project was officially launched.
Residential Plot Prices in 2018 Vs 2020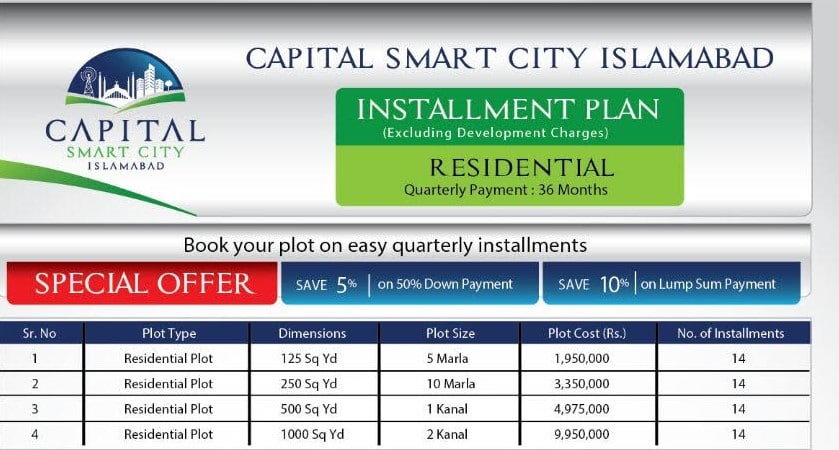 Commercial Plot Prices in 2018 VS 2020
Price Increase % for Capital Smart City Residential & Commercial Plot 2018 VS 2020
So, the branded developers, progress of development, legal and approved society, timely possession, price increment, these are all positive signs that this project is a good investment opportunity.
Thinking of Building Home in Capital Smart City?
It is common knowledge that many housing projects in Pakistan are just merely attractive to investors. This means that investors either find them attractive for short term goals or just hold on to the real estate and sell it once it matures and they can get high ROI.
The true value of society is recognized once it attracts people in moving and living there. Likewise, this is a true sign of Housing Societies getting developed and emerging as new cities. To accomplish that, many factors constitute the society fit for living, those include; safe and secure environment, easy access, available necessities, infrastructure, cost of living, etc.
So far, based on the available information about Capital Smart City, it seems to become a high-end society. Similarly, the residential plot prices are on the higher side if you compare it with the other societies but again, the smart features and concept of modern living come with a hefty price tag.
The Master Plan of this society or you can say the small city is made on a Township model. The planner has divided it into 17 districts:
Gate Precinct which will include a Five Star Hotel, 2×3 Star hotel, Service Apartments, offices, Commercial/Retail outlets, Pavilion 200 outlets, Mosque, Educational Institutes and Recreational Parks
Panda District is located new CPEC route. This will include Mall: 2000 Shops, car parking for 3500 cars, 300 ware Houses, truck service area, 1000 residential apartments, community club, Sector park, Mosque and Panda reserve which is a natural theme park
Aviation District will include Expo Center, Aviation academy, flight kitchen, airlines services, malls, Mosque, Business district, Hotels, technology park, Aeroplane restaurant, Recreational park and Green areas
Crystal Lake will include offices, F&B areas, 4-star boutique hotel, Serviced apartments, commercials/retail, dancing fountain, Silicon Valley Pakistan, IT tower and Media centre, educational institute, healthcare, mosque, villas, green areas, recreational parks
Boulevard Height which will include a 5-star hotel, pavilion with 160 retail shops, 8 buildings, 50 retail/offices/apartments, villas, mosque, park
Financial Square which will include Pakistan financial centre, Qatar Financial Center, 4-star hotel, CPEC tower, Mega Mall, Appartments, Corporate buildings, Parking plazas, Grand Mosque, Central Park
Healthcare District which will include 750-bed teaching hospital, 500-bed hospital, laboratories, 2-star hotel, mixed-use buildings, Pavillion food and beverages, Park, Parking areas
Education District which will include school, college, university, vocational institute, research facility, library, museum, gallery, sports facility, Hostels, mixed-used buildings, playgrounds
Lakeview Terrace which will include villas, apartments villas, terraced apartments, Spa, floating restaurant, lakeside walk, walking terrace yacht club
The Terraces which will include designer boulevard, specialized retail outlets, fine dining restaurant, coffee shops, food outlets, street food stalls, park
Capital Hills which will include Villas, Apartments, Townhouses, Banquest halls, clubhouse, golf course, souk, Mosque, clinic, School, green Areas
Overseas District 1 which will include residential plots, Trivelles Smart Villas, retail outlets, F&B areas, education facilities, Mosque, Linear Park, Harmony Apartment
Overseas District 2 which will include residential plots, residential villas, retail outlets, F&B areas, education facilities, Mosque, Park, Linear park
Executive Block which will include Villas, residences, Mosque, education facilities, clinic, Linear parks, Green areas, Walking/cycling tracks, Retails Pavilion
HillsView Heights which will include residential towers, f&b areas, retail pavilions, Mosque, Green Areas, Sector Park
Cultural Heritage which will include Model Village, Residential area, f&b area, Mosque, Park
Sports District which will include Sports academy, Cricket stadium, Olympic stadium, indoor arena, car racing track, motocross track, F&B beverage, sports retail, apartments, villas, green areas, amusement park
Capital Smart City has three types of Residential Blocks, Overseas Block 1 and 2, exclusive for Overseas Pakistanis, Executive Block and General Blocks. These blocks are further divided into different categories.
All Commercial Units are located in these 4 residential blocks.
There are different sizes of residential plots in each block: 3.5(latest), 5, 7, 10, 12 Marla and 1 and 2 Kanals.
There are commercial plots in each residential block and they are available in sizes 4, 6 and 8 Marlas.
In addition to these Residential and Commercial Plots, there are Farmhouses available in sizes 4 and 8 Kanals.
Capital Smart Villas
If you are looking for ready-made homes, Capital Smart City Islamabad is also offering "Smart Villas" an Avant-Garde project of Capital Smart City. These Villas are available in different sizes including 5,7,10,12 marlas and 1 & 2 kanals. Villas are further divided into 3 different styles, Contemporary, Mediterranean and Georgian Villas.
Features of Smart Villas: CCTV OUTDOOR CAMERAS, AUTOMATED DOOR LOCK, CCTV INDOOR CAMERAS, MAGIC BOX, SMART SWITCH, REMOTE ACCESS, TEMPERATURE & HUMIDITY SENSOR, SMART MOTION SENSORS, SMART DOOR AND WINDOWS
Trivelles Smart Homes
Trivelles Smart Homes is a part of a well-established UK property group, Trivelles Group. Trivelles Smart Homes is now introducing smart homes in association with Capital Smart City. Travelles Smart Homes are Smart villas in Sizes 5 and 10 marlas.
Standard Features of Trivelles Smart Homes include Smart Switch, GAS SENSOR, REMOTE ACCESS, CCTV OUTDOOR CAMERAS, TEMPERATURE & HUMIDITY SENSOR, SMART DOOR AND WINDOWS, CCTV INDOOR CAMERAS, AUTOMATED DOOR LOCK, MAGIC BOX, SMART MOTION SENSORS.
Optional Features include CENTRALISED COOLING SYSTEM, CARBON MONO-OXIDE SENSOR, WATER LEAK SENSOR, ADDITIONAL SMOKE SENSORS, ADDITIONAL INDOOR CAMERAS, ADDITIONAL OUTDOOR CAMERAS, ADDITIONAL DOOR/WINDOWS SENSORS, AUTOMATED CURTAIN RAIL SYSTEM, SMART MIRROR
Harmony Park Villa Apartments
These are low-cost villa apartments in the Harmony Park Block offered by Capital Smart City. The exterior look & structure of the buildings look similar to villas, hence these are called Villa Apartments. The apartment buildings will comprise 3 floors, i.e. ground, first and 2nd. Each floor will house 2 apartments adjacent to each other, so each building will comprise 6 apartments.
BRT System
This society will also have an Integrated BRT Transport System which will serve two major transport corridors. A separate lane will be dedicated to BRT that will pass through all parts of the society and across. It will have dedicated BRT Stations and will commute between Islamabad and Capital Smart City.
One of the best things about the planning of this society is that 30% of the land is reserved for green areas all over Capital Smart City. There is a plan for 600 Kanal central park which will include a grand Mosque and a financial square.
What are the Smart Facilities Available in Capital Smart City Islamabad?
Some Smart Features offered by Capital Smart City are:
Load Shedding Free Environment
Automated Traffic Control
Automated Utility Supply
Environmental Waste Collection
CCTV with Facial & Object Recognition
Automated Street Lights
Free Wifi Spots
Automated Air Conditioning Control System
Electric Bikes
How to Book your Real Estate in Capital Smart City Islamabad?
The booking is very simple and easy. You can book your property online. Online booking can be done through Smart City website or through the mobile app.
You can submit scanned documents online with booking form on Capital Smart City email address.
Mobile App with very convenient and easy to use. You can access your member portal and view all the information such as Bookings, Allotments and also your property's financial summary. You can pay your instalments online as well.
Apart from Online Booking and payment, there is a conventional booking method available as well. Also, there are many real estate agents who are dealing in Capital Smart City.
Conclusion
Capital Smart City has a lot of potential and if the developers continue to work the way they are working since the official launch of this project, there is no doubt that this real estate can be one of the best planned societies in Pakistan.
I believe that this project will attract potential buyers who want to move and build their homes in this modern city. It is very important that M2 motorway interchange to get completed as it will play a vital role in future of Capital Smart City.
What is your opinion about this project? Please feel free to comment below
---
Sources:
Capital Smart City: www.smartcitypk.com
Manahil Estate: https://manahilestate.com
RBS Land: https://rbsland.com
Qazi Investment: https://www.qaziinvestments.com